Weltuntergangsuhr 2022
Erstellt am 11.01.2022 von Andreas Hermann Landl
Dieser Artikel wurde 1646 mal gelesen und am 11.01.2022 zuletzt geändert.
GEBEN☰.
Hank Green, Autor und Wissenschaftskommunikator, schließt sich der Ankündigung der Doomsday Clock zum 75. Jubiläum an
Lorene Yue schreibt am 6. Januar 2022 bei thebulletin.org/
Das Bulletin der Atomwissenschaftler wird in eine Live virtuelle Pressekonferenz Host 10.00 Uhr EST / 1500 GMT am Donnerstag, 20. Januar 2022 Doomsday Clock Zeit bekannt zu geben und die 75 beginnen th Jahrestag der ikonischen Uhr.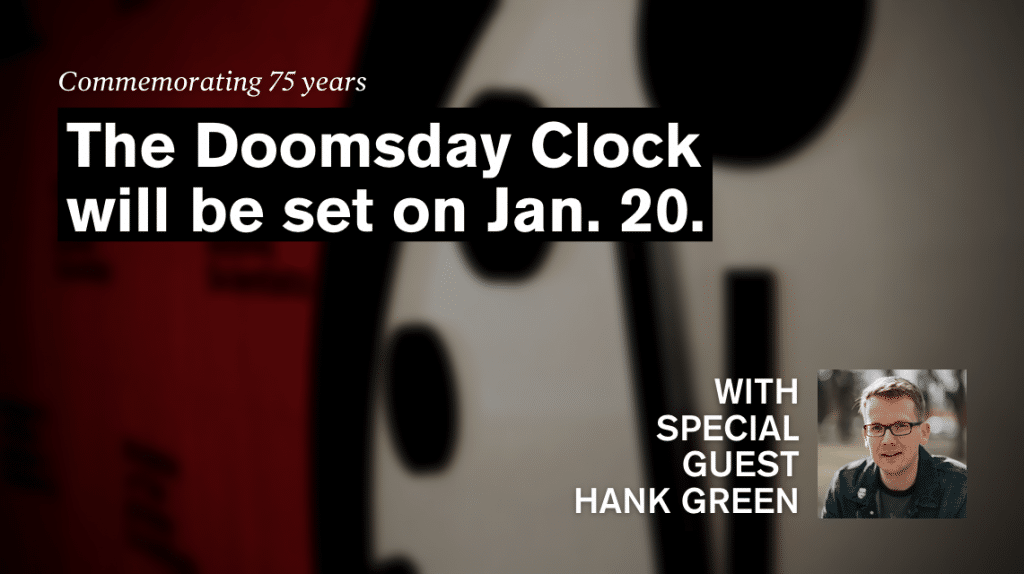 Die Ankündigung kann auf der Website des Bulletins oder seiner Facebook-Seite eingesehen werden .
Seit 75 Jahren fungiert die Doomsday Clock als Metapher dafür, wie nahe die Menschheit der Selbstvernichtung ist. Seit 1947 dient es auch als Call-to-Action, um die zuvor rückwärts bewegten Hände umzukehren. Die Weltuntergangsuhr wird jährlich vom Wissenschafts- und Sicherheitsausschuss des Bulletins in Absprache mit dem Sponsorenausschuss der Organisation eingestellt .
Das Doomsday Clock-Programm 2022 wird Kommentare enthalten von:
Das 75- jährige Jubiläum der Weltuntergangsuhr wird auch in einem Bildband festgehalten, das untersucht, wie das mächtige Symbol Kultur, Politik und globale Politik beeinflusst hat – und dazu beigetragen hat, Diskussionen und Strategien rund um nukleare Risiken, Klimawandel und disruptive Technologien mitzugestalten.
Über das Bulletin of the Atomic Scientists
Das 1945 von Wissenschaftlern des Manhattan-Projekts gegründete Bulletin stattet die Öffentlichkeit, politische Entscheidungsträger und Wissenschaftler mit den Informationen aus, die zur Reduzierung der vom Menschen verursachten Bedrohungen der menschlichen Existenz erforderlich sind. Im Kern ist es ein Medienunternehmen, das kostenlose Artikel auf seiner Website veröffentlicht und ein hochwertiges digitales Magazin veröffentlicht. Das Bulletin konzentriert sich auf drei Hauptbereiche: Nuklearrisiko, Klimawandel und disruptive Technologien. Erfahren Sie mehr unter TheBulletin.org . Folgen Sie uns auf Twitter , Facebook , Instagram , LinkedIn und TikTok.
Schlagworte: Weltuntergangsuhr
Themen: Neuigkeiten im Bulletin
Get alerts about this thread
[+]0 COMMENTS
RELATED POSTS
Receive Email
Updates
Bulletin Daily
By Lorene Yue
By Lauren Sukin
By Matt Field
By John Morales
By Dawn Stover
Don't Miss An Update
Subscribe to Receive Email Updates
Copyright © 2022 Bulletin der Atomwissenschaftler. Alle Rechte vorbehalten. Nutzungsbedingungen Datenschutzerklärung
1307 East 60th Street, Chicago, IL 60637 | 773.702.6308
Auf Facebook teilenAuf Twitter teilenAuf LinkedIn teilenIn E-Mail-App teilenWeitere AddThis Share-Optionen
Posted in Friedensbewegung, Friedensforschung, Global, Termine, Tipp, Unfrieden