New NAZI Japan or Peace Constitution
Erstellt am 04.08.2013 von Andreas Hermann Landl
Dieser Artikel wurde 13173 mal gelesen und am 04.08.2013 zuletzt geändert.
The Global Article 9 Campaign to Abolish War – Peace Boat asks:
Looking up to Nazi Germany to Amend Japan's Peace Constitution?
And answers:
Not on Our Watch!
Instead they ask friends and supporters of the Global Article 9 Campaign, just a few days after the July 21 elections of the Upper House of the Diet (Parliament) that granted Prime Minister Abe Shinzo, his Liberal Democratic Party (LDP) and ruling coalition a majority, because the debate over amending Japan's peace constitution has taken a newand worrisome turn.
Aware that his victory can be mostly attributed to his economic agenda, and in light of the low popular support for constitutional revision and the skepticism of some of his coalition partners, Abe seemed to suggest he would not rush into it, seeking instead to "expand, and deepen" the debate.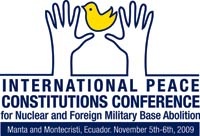 Yet, within days, his Deputy Prime Minister, Taro Aso, was quoted saying
the administration should learn from Nazi Germany.
As the government is seeking constitutional amendment, he asked:
"The German Weimar constitution changed, without being noticed, to the Nazi German constitution. Why don't we learn from their tactics?"
In addition, Abe has made clear he will, in the meantime, continue exploring options to re-interpret war-renouncing Article 9, in order to loosen the restrictions on Japan's right to exercise collective self-defense allow its Self-Defence Forces (SDF) to engage not only in self-defense but also in collective military actions.
The Global Article 9 Campaign team thinks:
Now is a crucial time to raise our voices in support of Japanese Constitution and to keep the current administration's inclination for nationalism, historical revisionism and militarism in check.

This kind of discourse and rhetoric is not acceptable and we need to show Abe's government that the world's public opinion will not tolerate it.
If you haven't done it yet, sign our international petition now:
http://www.change.org/petitions/prime-minister-shinzo-abe-save-japan-s-peace-constitution
They would also like to ask you once again to help spread this appeal far and wide!
Further Information
The Global Article 9 Campaign team
visit our website | friend on Facebook | forward to a friend
Newsletter Editor:
Celine Nahory, International Coordinator
Global Article 9 Campaign to Abolish War / Peace Boat
Our mailing address is:
Global Article 9 Campaign to Abolish War, Peace Boat
B1, 3-13-1 Takadanobaba, Shinjuku
Tokyo 169-0075
Japan
Posted in Asien, Deutschland, Friedensbewegung, Friedenspädagogik, Friedenspolitik, Friedensstifter, Friedensstifterin, Friedensstruktur, Gewaltprävention, Global, Krisenregion, Tipp, Unfrieden, Weltanschauungen, Zivilcourage